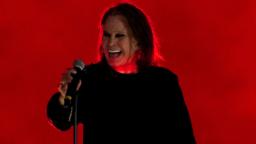 Osbourne rocked out with his former bandmate, guitarist Tony lommi. The pair performed one of their hits, "Paranoid."
Jack Osbourne shared photos on Instagram of his 73-year-old father on stage with 74-year-old Iommi.
"Dad and @tonyiommi closed out the #commonwealthgames2022 tonight," the caption on the photos read.
The elder Osbourne has had some recent health issues, including a surgery in June and contracting Covid-19 in April.