ad_1]

In this edition of Star Wars Bits: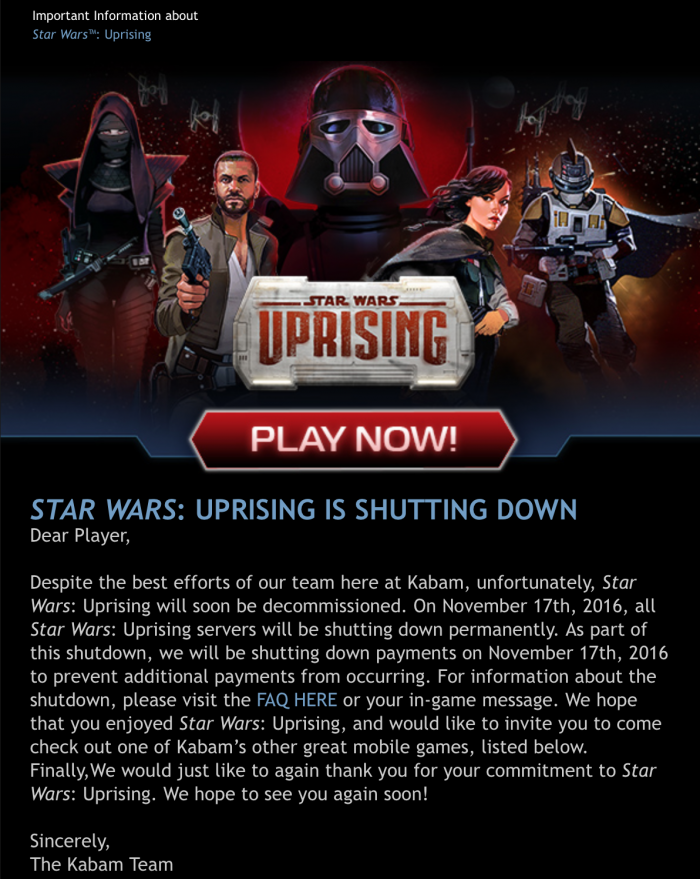 Only a year after its September 2015 launch, the Star Wars Uprising mobile game is shutting down. You can read the official statement via the image above (courtesy of Making Star Wars), but Kabam, the developer of the game, went into additional detail about the reasons why the game is coming an end (and when it will officially be unavailable) on their forums:
While Star Wars: Uprising was enjoyed by a great community of players since its launch, the game is no longer achieving the level of success needed to maintain the game and the decision was made to discontinue support.
2. When is the last day I can play Star Wars: Uprising?
You'll be able to play Star Wars: Uprising until the servers are disconnected at 9AM Pacific Time on November 17th, 2016.
3. Why can't Kabam just leave the game up as it is?
There are a number of things that go into maintaining a game beyond keeping the power running. Addressing issues, developing content and providing support are important components as well, and we feel those resources can be better served building and supporting Kabam's existing and new titles.
4. Is there any way to save my player data or bases?
There won't be a way to access your data from the game's servers after they go offline. We suggest you take screenshots of your accomplishments before November 17, 2016.
5. Where can I play other games like Star Wars: Uprising?
We're glad you enjoyed Star Wars: Uprising, and would like to invite you to check out one of Kabam's other great mobile games.
David Prowse, the English actor and bodybuilder best known for actually being the guy inside the Darth Vader suit in the original trilogy, has announced his retirement from the international convention scene. This shouldn't come as a huge surprise, as Prowse is 81 years old and traveling all over the world to sell autographs and signed photos is very much a young person's racket. Still, the news is sad nonetheless for any fans who were hoping to brush shoulders with the man behind one of the most famous movie villains of all time.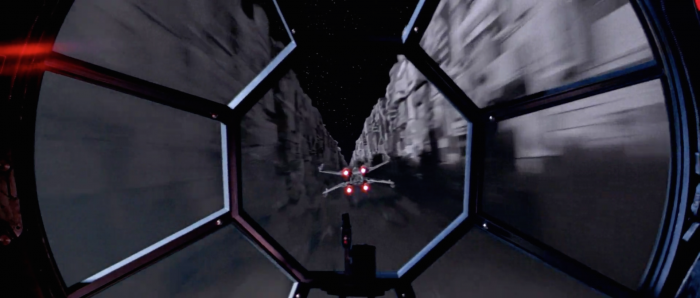 Former Lucasfilm and ILM designer Colin Cantwell recently participated in a Reddit AMA where he discussed, among other things, what it was like to be the chief designer behind many of the more iconic vehicles and starships in the original Star Wars trilogy. Like many great relationships, his partnership with George Lucas had humble beginnings:
Elsewhere in the AMA, he explained his inspiration for the X-Wing's overall design:
And then there's this delightful piece of trivia, where Cantwell reveals that the Death Star trench was the result of a mistake in his sculpting:
In other words, one of the most iconic sequences in movie history resulted from an error in building a model. There's probably a lesson to be learned there.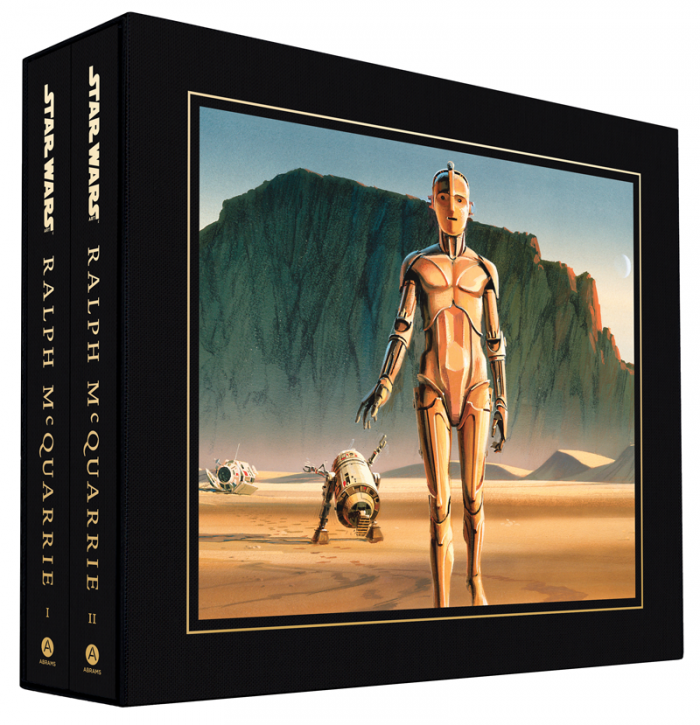 And while we're talking about legendary Star Wars designers, I'd like to point you toward this StarWars.com interview with Brandon Alinger, Wade Lageose, and David Mandel, the authors of the newly released coffee table book Star Wars Art: Ralph McQuarrie. This massive two-volume set collects over 2,000 of McQuarrie's illustrations and it's the kind of luxury item that, quite frankly, makes me wish I had an extra $250 to throw into the void. Anyway, the interview is good one, especially when the authors talk about trying to organize and catalog McQuarrie's work:
David Mandel: Seeing Ralph's work laid out chronologically also allows you to appreciate just how many concepts and designs Ralph was working at any one moment, and how integral Ralph was to every aspect of the movie from costumes to designs to matte painting to early poster designs.
Brandon Alinger: The challenge came from the lack of perfect information. Very little of the work is dated. We had access to some of McQuarrie's daily calendars from the time which provided date information, and dug deep for overall production information in other sources that informed the order.
You can read the whole interview at the link above.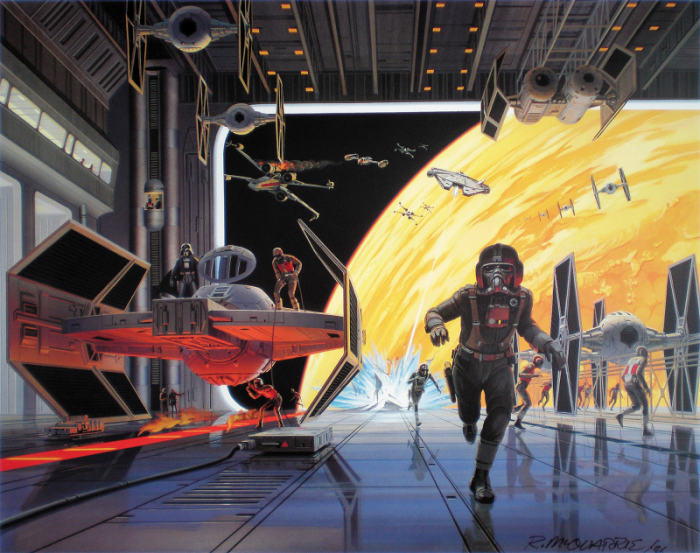 Meanwhile, io9 has shared a look at some of the art featured in Star Wars Art: Ralph McQuarrie and it is nothing short of stunning. You can check out some examples above and below and many more at that link.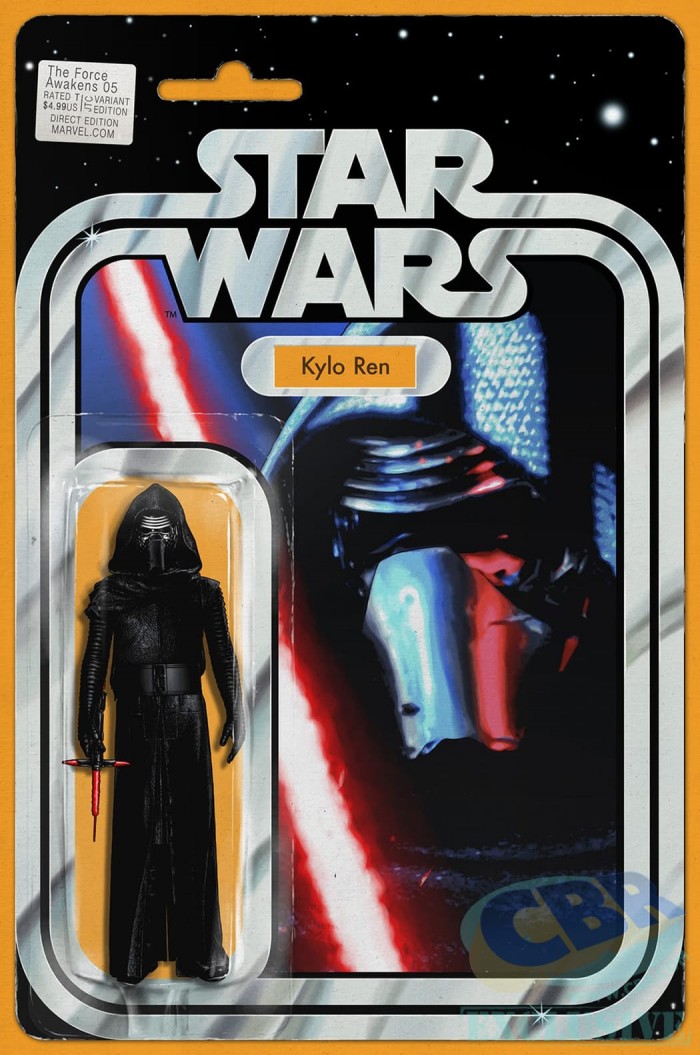 Comic Book Resources has revealed a variant cover for the upcoming fifth issue of Marvel's comic adaptation of Star Wars: The Force Awakens and it should look familiar to anyone who has been staying on top of Star Wars comics. The cover is designed to look like toy packaging for a Kylo Ren action figure, complete with shelf wear. Other characters have received their own special edition covers like this and I have met a few comic book fans who have gone out of their way to collect these specific covers, which admittedly do look very cool in person.
Learn more about Lothal's Imperial Governor Pryce in this #RebelsRecon bonus. #StarWarsRebels pic.twitter.com/cVElWjTOdJ
— Star Wars | Andor Premieres Sept 21 on Disney+ (@starwars) September 25, 2016
Season three of Star Wars Rebels has finally introduced Arihnda Pryce, the Imperial Governor of Lothal who has been mentioned (but never seen) since the first season. In a new video, part of the behind-the-scenes Rebels Recon series, the writers and producers of the show discuss the character and what we can expect from her in the future.
And speaking of Rebels Recon, here's the entire first episode of this cool web series, which features interviews with writers and producers on the series.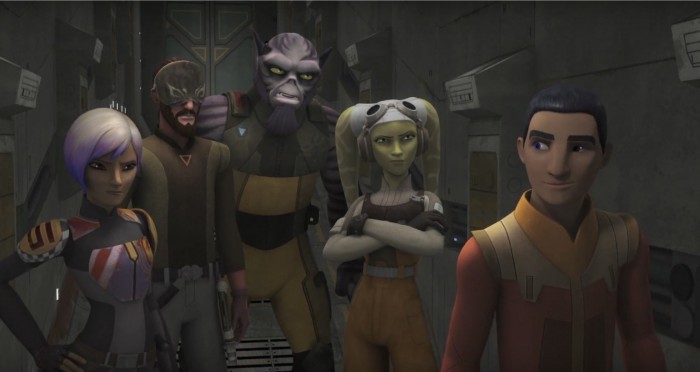 Blastr has published an excellent interview with Star Wars Rebels showrunner Dave Filoni and it's filled with commentary on past seasons and what we can expect from upcoming episodes. It even finds time to ask him if he would ever be interested in working on a live-action Star Wars television series, as has been rumored off and on for years. His response is diplomatic:
In other words: he's open to anything, but nothing is happening and don't get your hopes up. The full interview takes its fair share of nerdy deep dives and can be read at the link above.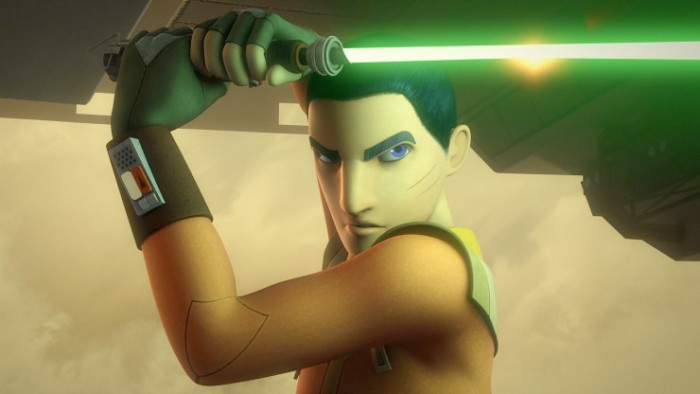 While we're sharing Dave Filoni interviews, io9 spoke with him after the second episode of Star Wars Rebels season three, "The Holocrons of Fate." First, the article suggests this theory about the vision Ezra and Maul have during the episode:
When grilled about this, Filoni played coy:
For the full conversation and additional details, follow the link above.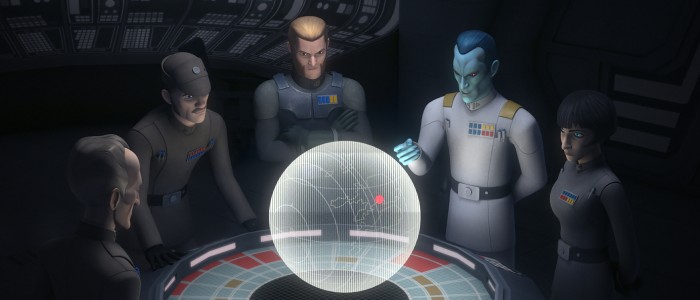 We're currently two episodes deep into Star Wars Rebels season three, but those looking to know more about what to expect in the upcoming chapters need only look to TV Guide for new synopses:
Hera's Heroes: Hera's rebel supply mission to Ryloth becomes personal when she and the Ghost crew brave overwhelming Imperial forces to recover a memento from her ancestral home. (Airs October 15.)
A synopsis for the fifth episode of the season, "The Last Battle," has yet to be released.
Here is my mockup of all the info & art we have on SWL matched to their locations! Thx 2 @21royalstreet for his img! pic.twitter.com/9UuZHZTvUm
— Dre (@VashSky) July 15, 2016
Twitter user @VashSky has done theme park and Star Wars fans a service with this graphic, which takes all of the art and known information about Disneyland and Walt Disney World's Star Wars Land and combined it into one image. This is all susceptible to change, but this could be an accurate skeleton of what park visitors may expect when the land opens in a few years.